Assembling a talented, experienced team of professional wedding vendors is an essential part of organizing a smooth, low-stress wedding celebration. Your officiant, Photographer,  DJ or live entertainment, florist, caterer, hair stylist and makeup artist are all essential members of your team of professional wedding vendors. For this reason, it's very important to do your research and choose vendors whose personality and style will be a good fit for your wedding.  Below is my personal list of favorites based on my experience with them.  If you choose to call them PLEASE tell them Kelly with Amor Ceremonies referred you!
The Photographer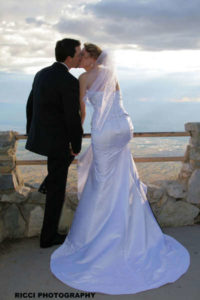 Finding a Photographer is as important as finding an Officiant that you click with.   And I know that searching for a talented and reputable wedding photographer within your budget can be frustrating.  My personal favorite is  Roy Ricci of Ricci Photography, he specializes in shooting a creative blend of photo-journalistic  traditional, contemporary and artistic photography for each and every wedding.  Roy is  handpicked for his friendly personality, creative style and  professional equipment. Roy can be reached at 505-250-1113 or  http://www.ricciphotography.net/
Other favorites:  Natural Touch Photography 505-818-0001  http://www.naturaltouchphotos.com/
Sweet William Photography 505-363-2391  http://www.sweetwilliamphoto.com/
Kevin's Photography 505-345-6322 http://kevinsphotography.net/
Matt Blasing Photography 505-489-4682 http://www.mattblasing.com/
Blue Rose Studios 505-266-5292  http://www.bluerosestudios.com/
DRESS
Uptown Bride 505-318-0411

 https://www.uptownbrideabq.com
Bridal Elegance by Darlene 505-830-2110   http://www.bridalelegancenm.com/
THE CAKE
ABC Cake Shop 505-255-5080 www.abccakeshop.com
Saratoris 268-2627, ask for Johnny http://www.saratoris.com/
The Cake Boutique  833-1170  http://www.thecakeboutiqueabq.com/
Say it with Cake 899-6010 http://sayitwithcake.org/
Nothing Bundt Cake, 505-924-222 www.albuquerque@nothingbundtcakes.com
Cake Fetish 883-0670 www.cakefetish.com
Small Cakes 505-404-1800 http://www.smallcakescupcakery.com/
The DJ
Selecting a great DJ is absolutely crucial to the success of your wedding reception. Not only does the DJ keep the music flowing, they will work with you to create a schedule of events that will keep you and your guests entertained. It's too easy for a reception too loose momentum without the planning and enthusiasm a professional DJ provides. The last thing you want is for your party to deflate, but that's precisely what will happen if you opt for the "iPod DJ". The best, most flexible Albuquerque DJ we have worked with is Too Hot to Stop. They have been in business for 23 years and know exactly what it takes to make your wedding reception a success. They can be reached at 505-480-4601 or http://toohottostop.com/index.html. 
Or another favorite is Patrick with Dream Factory Productions 505-507-2795  http://dreamfactorydjs.com/
Lil Mo Music 505-228-1918 https://abqweddingdjs.com/
The Florist
Finding a talented florist is not only contributes to the beauty and ambiance of your ceremony and reception, it helps make your wedding photos even more spectacular. Nothing makes the bride look even more beautiful or dresses up a plain hotel ballroom like some artfully arranged flowers. For incredible work and many years of experience as an Albuquerque florist, contact Christine of Something Special with Flowers at 505-881-4331 or www.customfloralart.com

Or consider contacting Enchanted Garden 505-610-8927  http://www.enchantedgarden.biz/
Silk Flowers ~ Charlotte's Flowers  505-256-9471 https://www.mycharlottesflowers.com/
Paper Flowers ~ Forever Folded 505-688-9775
Old Town Flowers ask for Tanya  505-573-7673 https://www.oldtownflowersabq.com/#/
The Caterer
Picking a caterer can be daunting. Serving 200 guests a bad meal is…not so good. We wedding photographers have had the opportunity to sample the fare of nearly every caterer in Albuquerque. Hands down, the company that we recommend above all others is Above and Beyond. Everything from the appetizers to the dessert is deliciously and expertly prepared by this passionate company. They can be reached at 505-508-5638 or https://www.aboveandbeyondnm.com/
Chello Grill 505-881-2299 www.chellogrill.com
Fuddruckers (yes, they do more than burgers) http://fuddsburger.com/albuquerque/catering-albuquerque/
Gourmet to Go  505-880-0057  https://www.gourmet2goabq.com/
Sassy Apron, Rachel 505-225-9293 www.mysassyapron.com
Central Grill, George or Alicia 505-554-1424  www.centralgrillcoffeealbuquerque.com
Slate Street Café 243-2210 http://www.slatestreetcafe.com/catering
Scarpas, 505-323-7718 ask for Joe
Olive Garden 505-922-6422  https://www.olivegarden.com/catering
Also consider Bobbi's Homestyle Catering 505-385-0963  http://www.bobbishomestylecooking.com/
POETRY????  Yes!
What a great way to customize your ceremony!!!  Darshan offers a complimentary consultation to "get to know you as a couple" he will then create a beautiful heartfelt poem reflecting the essence of your relationship!   https://www.feelgoodpoems.com/   505-321-4914
The Decorator
Simply Decor and Events 505-463-2998  http://thevieweventcenter.com/
Finishing Touches, ask for Elaine 575-317-8014 www.finishingtouchesofnm.com
MEDI SPA
Teresa at Skinovations is amazing!  505-712-7546  https://skinovation.net/
The Hair Salon
Choosing an experienced hair salon will make you look like a million bucks on your wedding day; many are even willing to do on-site bridal hair. Not only will you hear the sound of jaws dropping as you walk down the aisle, your photographer will thank you. If you aren't already loyal to a stylist, check out Stockton Hair Artists. They can be reached at 505-884-0424.
The Bridal Makeup Artist
Last but far from least is your professional makeup artist. Finding an Albuquerque bridal makeup artist who knows how makeup will look on film is essential. Our dear friend Noel of The Vanity has spent years working with top photographers across the country and provides stellar on-site bridal makeup. She can be reached 505-710-6802 or www.thevanitymakeup.com
Another excellent option is Jessica ! Lavande 505-291-8323  http://jessica-jung.com/
THE LIMO/CARRIAGE
Limousine Service 505-712-2781 ask for Joe
American Limousine  http://www.americanlimosabq.com  505-877-7576
Rio Sandia Carriage Service 505-301-0917 www.newmexicoadventures.com
THE VIDEOGRAPHER
Golden Age of Film ask for Rod 505-203-0215 email: goldenageoffilm@yahoo.com
Luminance Wedding Films, ask for Sarah 505-301-1668 http://www.luminanceweddingfilms.com/
Avista Video  http://www.avistavideo.com/  505-828-2100~John
Sally with Loving Image www.theweddingvideosite.com 505-359-5900
Emily Joanne Wedding Films 505-359-9971 info@emilyjoanne.com, www.emilyjoanne.com
THE PLANNER/DAY OF THE EVENT COORDINATOR
Black Bow Events 505-328-0900 ask for Danessa instagram blackboweventsnm
Yours Truly ~ Erica Gallegos 505-453-8194  https://www.yourstrulyeventplanningabq.com/
Desiree Stewart Weddings & Events 505-269-5436 email desiree.stewart2116@gmail.com
Just Lovely Weddings http://www.justlovelyweddings.com/   Lauren 505-835-0011
Occasion Services 884-0434 www.occasionservicesevents.com
Natalie with Oh So Natty, Natalie 505-401-0024  http://www.ohsonatty.com/
Crystal Anaya 850-8389  eoevents12@gmail.com  Extraordinary Events www.eoevents12.com
Found Hearts Event Planning, Aysha Meyers, 505-933-6254 http://www.fheventplanning.com/